Our house is in a constant state of dis-organization in one way or another. The combination of the fast that neither Sean nor I are type A people, and having 4 kids means there will never be a room in our house that looks like it belongs in a magazine, and I'm ok with that. I know it's my fault more than anything else that our house is not better put together. I'm here all the time, so it's my job to keep things in line and cleaned up, and I fail at that quite often. I will say I am trying to make a better effort to get the house organized though. I think if you have things organized in a functional way, it's much easier to keep things clean. Organizing often means spending money, however, and then praying you spent your money in the right places on the right things for your stuff and your house.
One of our newest purchases was made in the hopes of wrangling the perpetual mess that is our pantry. It is pretty darn big as pantries go, but we just can't seem to get a handle on making the best use of the space. If we had the funds, I'd have a custom designed pantry from New Space or the Container Store, but that's just not a financial reality. Instead we went to the container store to try to find items we could add to the pantry to create more and better storage.
Here
is what we ended up with: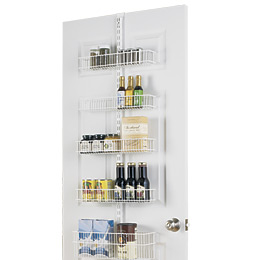 What I love about this is it hooks onto the pantry door, which means no drilling, hammering, or other permanent mounting required. It took Sean about 10 minutes to get the whole system on the door securely, and then it took me about 5 minutes to load up the shelves we had bought. This solution freed up at least 2 of the small shelves in our pantry, and everything is now more easily accessible and better organized. The system pictures is a set, but you can buy the track and the baskets separately, so you can make it fit your needs instead of trying to make a set that's already put together by the store work for you.
I'm hoping to start sharing these things I find and love as we work to organize the house. We have a lot left to work on, so I hope I find a lot of things I love and can share with others.