Okay folks, I need some color advice. I painted our living room, foyer, and hallway about 5 years ago. I do like the colors, but I'm not so in love with them anymore. For those who really know me, you know I like to change paint colors like I change my underwear, so 5 years is a very long time for one color to stay on my wall in any room. So, I'm itching to change it, but not sure what direction to go with it.
Here is what it looks like now with the new floor we put down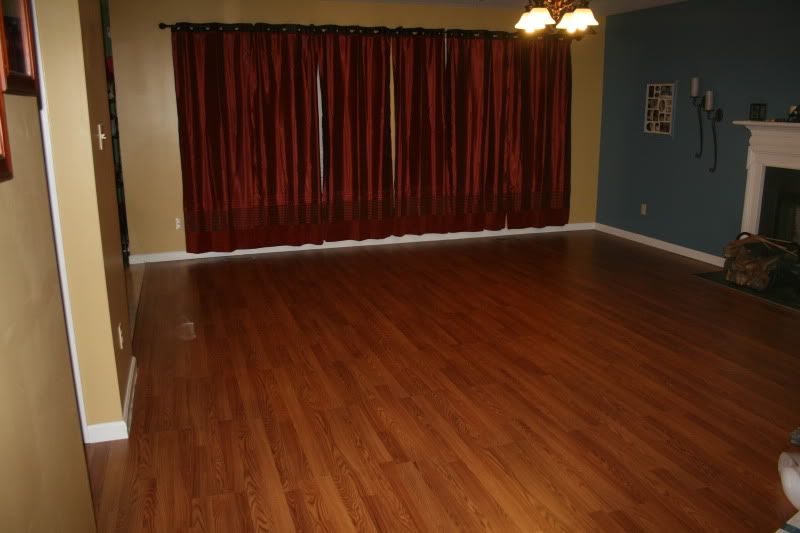 and this is what our furniture looks like
I plan to keep the neutral couch and love seat in there, and would prefer to keep the same curtains.
Here is a link
to the curtains I have. We have the "rich red" color. Also, that yellow color will likely stay in the foyer and hallway for the time being so whatever color I use needs to go well with that yellow. I feel like not only is it time for a change, but a more neutral color in there would probably be better when we decide to sell the house. For reference, the kitchen is
valspar
cliveden pasture, and the yellow in the living room and hallway is
Behr
beachwalk.
I have a feeling when this room is done I may feel the need to repaint the kitchen a more neutral color since it is pretty bold color. I really do like the color in my kitchen, but again, I'm very worried about potential buyers hating it. Our house is not on the market yet, and I don't really know for sure when it will be, but I don't want to leave tons of projects to do right before we put it up for sale.
Anyway, please give me some ideas for this room. My ideas are all over the place and I'm just not sure where to go with it.